Polish Open: Boll Wins Back-to-Back Titles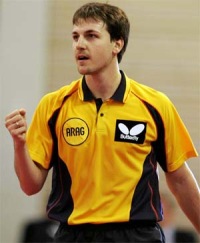 Form Maintained as Timo Boll Wins Consecutive ITTF Pro Tour Menís Singles Titles
Tuesday, November 21, 2006
Timo Boll, winner of the Menís Singles title on home soil at the Liebherr German Open seven days earlier repeated the success at the Liebherr Polish Open in Warsaw on Sunday 19th September 2006.
In confident mood, he beat the Vladimir Samsonov in six games to capture his third ITTF Pro Tour Menís Singles crown of 2006. In September he had won at the Panasonic China Open beating the reigning World champion, Wang Liqin in the final, in Warsaw he beat the current European champion to clinch the crown.
Timo Boll won 11-3, 11-6, 2-11, 8-11, 11-4, 11-5.
Success for the number one seed in the Menís Singles event but not for the top seed in the Womenís Singles final. Austriaís Liu Jia lost in seven games to the host countryís Li Qian, a match in which the number one seed made by far the better start. She won the first three games before Li Qian, a defensive player, summoned an inner strength to overcome fatigue and aching legs.
Li Qian won 2-11, 9-11, 14-16, 11-5, 11-8, 11-7, 11-6.
The success of Li Qian was the second title of the day for Poland. Earlier in the afternoon Lucjan Blaszczyk and Wang Zeng Yi had won the Menís Doubles crown beating the second seeds, Austriaís Chen Weixing and Robert Gardos in the final. It was sadness for Austria, joy for Poland,
Lucjan Blaszczyk and Wang Zeng Yi won 11-4, 8-11, 11-8, 10-12, 11-8, 12-10.
Meanwhile, in the Womenís Doubles it was victory at last for Sayaka Hirano. On three previous occasions on the ITTF Pro Tour in 2006, always in partnership with Ai Fujinuma, she had finished in runners up spot. Second place had been her destiny in Brazil, Chile and Serbia.
In Warsaw, with Reiko Hiura, who she had partnered to a semi-final place at the TMS Chinese Taipei Open in June, it was gold. The duo heaped further sadness on Austria.
In the final they beat Veronika Heine and Liu Jia 11-3, 8-11, 11-9, 12-10, 12-10.
Image: Timo Boll won his third ITTF Pro Tour Men's Singles title of 2006 when he succeeded in Warsaw
Source: ITTF