How to Reglue your rubber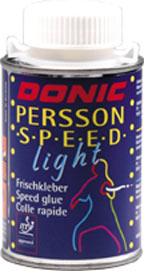 Learn how to refresh your rubber's feeling
1. Obtain some ITTF approved speed glue and sheets of rubber with softer sponge made especially for speed gluing.
2. When putting on new sheets, you will need to prime them with a couple extra coats of glue to help build up a glue base. The longer you can wait after priming the sponge the better, for maximum effect wait up to 6-8 hours.
3. Now with freshly primed sponge (or a sheet that has been glued before), pour a half dollar size amount of speed glue in the center of the sponge.
4. Use the brush to spread the glue evenly over the sponge and let dry.
5. Apply a slightly smaller amount onto the blade. Brush evenly and let dry.
6. Add one final thin layer of glue to the sponge and attach to blade with a small rolling pin.
7. Repeat steps 3-7 for other sheet of rubber.
8. Cut excess rubber hanging off the edges with a pair of scissors.
9. Use a racket press or place the freshly glued racket under a stack of books for 15-minutes before your next match.
10. Go out there and spin them down. Repeat process every 4-6 hours of play.
Regluing tips
1. At the end of the session immediately take the rubber off your blade. This will allow the stressed rubber to return to its natural tension.
2. Experiment with different speed glues and different amounts of glue per application as each has slightly different characteristics.
3. Keep the sheet wrapper as a protective covering for the unattached rubber.


© Dimosthenis Messinis
Denis' Table Tennis World

Read what others have to say:


Related Articles:



Tactical Intelligence

Learning from Defeat

Backhand Topspin

Mental Workout

The Shakehand Grip

Equipment Facts - Part 2

Equipment Facts - Part 1

Spinning the Ball

Serving Effectively

Receiving Services