A Champion Steps Down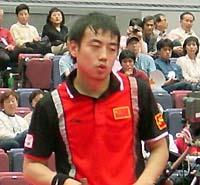 Liu Guoliang stops his career at just 26
Sunday, July 28, 2002
ITTF Press Release
Lausanne, Switzerland, 24 July 2002. LIU Guoliang one of the World's best players in the 90's has decided to stop his career.
When the Chinese League is over in the middle of August LIU Guoliang will no longer be on the international scene – as a player.

However he has got the official approval from the Chinese association to become a coach.
With the decision, LIU will not be playing at the Asian Games – it is not yet decided if he might show up as a coach!
"During the last months I have discussed my future with the officials in my association and now the decision is taken", says LIU who has been in the World top since he came into the Chinese national team at the age of 17.
The small fast moving penholder was a "horror opponent" to many other top players because of his pimple rubbers and his "nasty" services.
Though LIU is now only 26 he feels ready to retire.
"I have won all the possible titles that I could ever dream of, and since I started so early I have been on the scene longer than most other players. The new 40 mm ball and the new service rule is not good for me, so I have no regrets".
Going from playing to coaching LIU suddenly opens a possibility that nobody ever thought about before: LIU Guoliang coaching his good friend and doubles partner KONG Linghui at the Athens Olympics 2004!
The retirement of LIU Guoliang is not a big surprise. With his style of play based on speed and with his wizard "hidden" services he was considered to be one of the players who would have difficulties with the bigger ball and the new service rule.
But what a retirement. When LIU Guoliang says goodbye he leaves the nr. 9 position on the World Ranking and he is reigning World Champion (team)!
He has a total of 4 World Championships singles and doubles titles (plus several team titles), 1 World Cup title, 2 gold medals, 1 silver and 1 bronze at the Olympic Games and almost 20 Pro Tour titles.
Knowing his personality it is likely that his ambition will be to achieve the same as a coach as well.
---
Read what others have to say:
Related Articles:

Timo Boll writes his name in history books

Sensational Singapore in Moscow

Samsonov wins his 3rd World Cup

Michael Maze and Wu Jiaduo are European Champions

Obama Purchases Stiga 410Q Table Tennis Table

Vote for Biba!

Wang Hao is new World Champion

First WTTC without speed glue

Killerspin signs India no. 1

Table Tennis on TV (US Only)