Yasaka Dynamix 17 with Yasaka Mark V GPS Rubber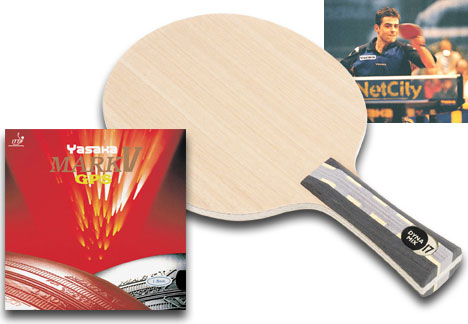 Price: $109.86
$128.85
Save $18.99 (15%)

Sorry, this item is currently out of stock. You may ask us to send a restocking notification when this item is back.
We will assemble this racket for you and add free side tape to match the blade.
Yasaka DYNAMIX 17 is a state of the art product.
A never seen before 17 extremely thin layers of wood plys, yet it comes in at a low weight of only 90 gram.
Another powerful weapon you can depend on.
Speed: 92
Control: 78
Weight: 90
Ply: 17
MARK V GPS
This rubber sheet results from the early development of regular Mark V.
The top sheet is identical to the traditional and proven Mark V but with the combination of soft sponge it reacts softer and more elastic. An excellent choice for the speed glue user or not !
Speed: 85
Spin: 92
Control: 82
---
Customers who purchased Yasaka Dynamix 17 with Yasaka Mark V GPS Rubber also purchased:
Ordering Information
Rubber thickness All Yasaka and Donic Pro Combos come with 2.0mm or 2.1mm rubber but can be ordered in all other available sizes if a note is placed in the "other instructions" section of the order form.
Racket Assembly FAQ - Learn about free racket assembly, pre-assembled rackets and more.
Free shipping over $50 to continental US This applies on all items except Newgy items.
Best Price Guarantee We guarantee to have the lowest prices (shipping included) when compared to US table tennis stores. Please tell us if you find a lower USA price.
Reviews
Submit a short review about Yasaka Dynamix 17 with Yasaka Mark V GPS Rubber.