Yasaka Dynamix 17 with Yasaka Mark V Rubber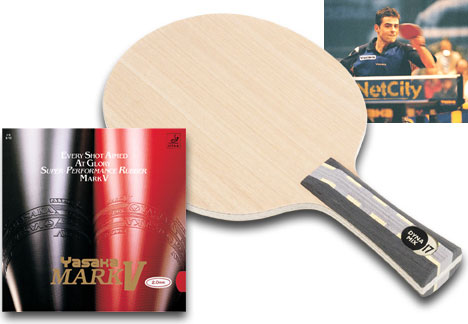 Price: $119.70


$140.85
Save $21.15 (15%)

Yasaka DYNAMIX 17 is a state of the art product.
A never seen before 17 extremely thin layers of wood plys, yet it comes in at a low weight of only 90 gram.
Another powerful weapon you can depend on.
Speed: 92
Control: 78
Weight: 90
Ply: 17
MARK V
Was one of the first rubber blending natural and synthetic rubbers. It is more than 2 decades that this rubber has been a strong weapon in world class championship play with its dynamic speed and spin.
Speed: 90
Spin: 90
Control: 78
---
Customers who purchased Yasaka Dynamix 17 with Yasaka Mark V Rubber also purchased:
Ordering Information
Rubber thickness All Yasaka and Donic Pro Combos come with 2.0mm or 2.1mm rubber but can be ordered in all other available sizes if a note is placed in the "other instructions" section of the order form.
Racket Assembly FAQ - Learn about free racket assembly, pre-assembled rackets and more.
Free shipping over $50 to continental US locations.
Best Price Guarantee We guarantee to have the lowest prices (shipping included) when compared to US table tennis stores. Please tell us if you find a lower USA price.
Reviews
Submit a short review about Yasaka Dynamix 17 with Yasaka Mark V Rubber.