Stiga Boost TP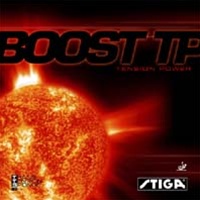 Price: $54.95
$58.95
Save $4.00 (7%)

Stiga has achieved the ultimate answer for the non-glue era! Boost rubbers with the new TTS Technology with "TransTension Sponge" and new materials generate maximum tension and sponge power. Boost rubbers are fast, bouncy, and with a tremendous catapult effect.
Boost TP (Tension Power) has a medium sponge and is great for the leading players who demand ultimate spin and speed combined with a sensitive touch.
Speed: 96
Spin:93
Control:68
Sponge Hardness: Medium
---
Customers who purchased Stiga Boost TP also purchased:
Ordering Information
Rubber FAQ and Guide to Choosing Rubber - what you need to know when buying rubber.
Compare rubber ratings - compare ratings to other sheets.
Free shipping over $50 to continental US locations.
Best Price Guarantee We guarantee to have the lowest prices (shipping included) when compared to US table tennis stores. Please tell us if you find a lower USA price.
Reviews of Stiga Boost TP (10)
Submit a short review about Stiga Boost TP.

View all 10 Reviews
| | |
| --- | --- |
| | External Review on November 22, 2012 |
Very good forehand rubber. Speed is fantastic, spin is very good and the control is very good aswell. I have this rubber on both forehand and backhand, and i must say that i didnt like it as much on the backhand, mainly because of the speed and relativly low throw, wich means that you cant, (or maybe i cant) use it on opening loops with good success. However, this is all about technique i guess :). But as a forehand rubber for offensive play, it's really good!
---
| | |
| --- | --- |
| | External Review on September 11, 2012 |
A great rubber for backhand. Can do powerful shots from a distance, and very controllable on a carbon acrylate blade. It is a slightly slower version of Almana, less punishing, but with a lot more spin and control in loops, and better balanced.
---
| | |
| --- | --- |
| | External Review on September 6, 2011 |
its a good rubber 4 the players who have just learned how to loop and spin the serves....
in general its a medium average rubber.
---
| | |
| --- | --- |
| | External Review on November 29, 2010 |
It is quite hard to play at first due to the lack of power and the hardness in the sponge, but after a few moments playing it gains more power and you can use it for flicking, top-spinning and smashing. For top-spinning players, it will be better if you use a blade with a slightly longer dwell time.
---
| | |
| --- | --- |
| | External Review on October 24, 2010 |
My favourite rubber...so far! I use 2.0mm with a Stiga Allround Classic and it has a lovely combination of speed/spin/control. Replaced Sriver and it was an easy transition. Can really feel the ball in this blade. Great sound too!

View all 10 Reviews