Newgy Robo-Pong 1040 with Free 1-Player Bundle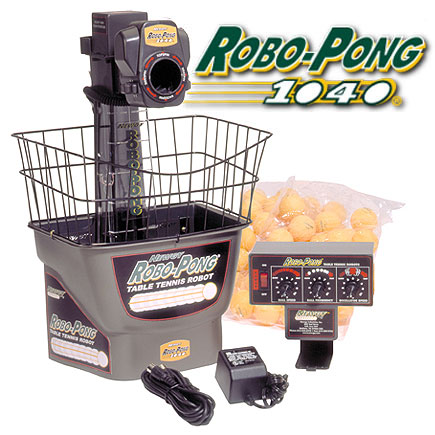 Price: $299.00

You will get a free 1-player bundle with your robot!
Add more discounted bundles to your robot order!
Order 1-Player Bundle - $20 ($61.39)
Order 2-Player Bundle - $40 ($98.83)
Order Family Bundle - $60 ($133.31)
Order On-The-Go Bundle - $60 ($99.00)
---
30 Day Money Back Guarantee! If you are not happy, simply return it for a full refund!

Shipping to Continental US takes around 2-4 business days.
The next step up is this great table tennis robot for intermediate and tournament level players. Includes all features of Robo-Pong 540 plus oscillation and more powerful speed and frequency controls. Bucket Extender expands ball capacity for longer continuous play.
Package Includes:
Table Tennis Ball Thrower (w/Oscillation)
Ball Bucket
Bucket Extender
Full Size Control Box
Transformer
Connector Cable
Owner's Manual
48 Orange 40mm Robo-Balls
Carton Size 26" x 15" x 13
Download the PDF manual
Newgy Robot purchases are protected in three ways: (1) a 30-Day Unconditional Money Back Guarantee, (2) a standard 1-Year Limited Warranty, and (3) a 5-Year Service Policy.
Comparison Chart

Table Tennis Robot Benefits
Become The Best You Can Be

Nothing beats having your very own Robo-Pong for practicing at home. Play anytime you want for as long as you want. Play until you drop! Spend more time hitting balls and less time picking them up. Accelerate your development by performing hundreds of strokes in the same time it takes to hit a few dozen shots with a human partner.

Robo-Pong is your secret weapon for learning the skills you need to beat your nemesis. Do what champions do: Train with Robo-Pong and realize your dreams!

As top U.S. player, Yiyong Fan, says, "Robo-Pong helps me very much. Every ping-pong player needs your robot to develop high level skills."
Play Ping Pong Anytime, For As Long As You Want!
Have you ever had the urge to play ping pong, but couldn't find an opponent? Are you like the Energizer Bunny and want to keep going long after your opponents give up? Robo-Pong is your answer.
This faithful servant is at your command 24/7. Improve your game at your own pace. Only have a few minutes to play? No problem. Robo-Pong is ready to go at a moment's notice. Warning though—once you start you may not want to stop!
For Family Fun & Entertainment

Want a healthy, fun alternative to TV and video games? Try Robo-Pong. Ping pong is addictive because it engages the mind and body in an inherently fun activity. Basic skills are easy to learn. It's a sport that can be enjoyed by all family members from ages 6 to 106! Unlike injury-producing sports such as football or skateboarding, ping pong is a safe sport with a very low injury rate. It's terrific for developing quick reflexes, hand-eye coordination, and balance. Best of all, you can enjoy an Olympic sport in the privacy and comfort of your own home.
Get Fit While Having Fun!

Get true aerobic conditioning doing what you love to do—playing ping pong! Robo-Pong's non-stop play will keep you swinging and moving for as long as you would normally run or walk—with the same aerobic benefits. Regular use of Robo-Pong will strengthen your cardiovascular system, increase muscular endurance and improve muscle tone. Robo-Pong's sport-specific workouts are better for your game than other aerobic activities like ski machines or stationary bikes. It's visually exciting and never boring or monotonous. So quit skiing without snow or riding to nowhere. Robo-Pong is the perfect workout for ping pong fanatics! Great for kids too.
Great Rehabilitation Tool

Ping pong is perhaps the best sport for improving hand-eye coordination. After a stroke, major surgery, or serious accident, it's imperative to get the body moving again and to reactivate the brain to muscle pathways. Robo-Pong can be adjusted to very low levels at the beginning of your rehab program and then gradually increased to make the workouts more challenging as your condition improves. Ping pong can even be played while seated in a wheelchair and it's a popular activity at rehab centers.
Easy To Use, Affordable, and Adjustable

Newgy robots are the best selling, most affordable robots in the world. Robo-Pong robots are renowned for being very user-friendly. They are simple and easy to set-up, use, take-down, store and transport. Our robots are supported with thorough, well-written documentation, an extensive web site, and friendly, knowledgeable staff. You'll have everything you need to begin playing within a few minutes of opening the box.

Newgy robots are fully adjustable to match anyone's playing level from entry level to professional. Selection of spin type, oscillation range*, and trajectory angle is straight-forward and easy to understand. The remote controls provide convenient regulation of power, ball speed, ball frequency, and oscillator speed*. Newgy robots are made of quality parts to ensure reliability and durability for many years of hard use.
*Oscillation available only on models 1050/1040 and 2050/2040. Model 540 does not have oscillation controls.
---
Customers who purchased Newgy Robo-Pong 1040 with Free 1-Player Bundle also purchased:
Ordering Information
Free shipping over $50 to continental US This applies on all items except Newgy items.
Best Price Guarantee We guarantee to have the lowest prices (shipping included) when compared to US table tennis stores. Please tell us if you find a lower USA price.
Reviews of Newgy Robo-Pong 1040 with Free 1-Player Bundle (9)
Submit a short review about Newgy Robo-Pong 1040 with Free 1-Player Bundle.

View all 9 Reviews
| | |
| --- | --- |
| | Review by helee4 on July 19, 2011 |
I am very pleased with the product, especially with the newly lowered price purchased via megaspin.. I suggest to place it on a stool behind your table, and have your machine shooting balls at a slight incline, this way you have more realistic trajectory.
---
| | |
| --- | --- |
| | External Review on December 13, 2009 |
As stated by others. The underspin capability is useless. It is so strong that it is impossible to develop a stroke that can be used in real game situations battling the 1040's underspin. The topspin is okay, but you would be better to save your money and buy a two wheel machine rather than the single that is in the 1040.
---
| | |
| --- | --- |
| | External Review on October 2, 2009 |
if i had the choice of the 2040 or the 1040 i would chose the 1040 personnaly i would chopse this because the feauteres are the same as the 2040 however there are a few that they are noyt however this is easy to overcome this is a veryh good robot whitch is worth its money.
---
| | |
| --- | --- |
| | External Review on October 1, 2009 |
I own the 2040 haven't had any problems out of it. I'll probably have to replace the ball spin wheel because of the wear i put on it. You don't need a manual to operate but it will give you much more ways to use the robot then i thought just by play out of the box. I love this machine and look forward to the new 2050 thats coming out soon to upgrade to.
---
| | |
| --- | --- |
| | External Review on July 9, 2009 |
It's a pretty good robot. At this price you get what you pay for. It's useful for foot work and general drills.

View all 9 Reviews