LKT Pro XP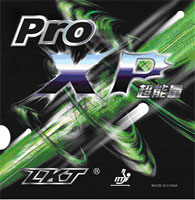 Price: $13.95

- Next generation of rubber formulation.
- Superior mechanical grip.
- Thin top sheet with unique under pip structure.
- Fitted for mid distance loop and counter drive attack.
- Special XP sponge designed to enhance performance.
- Rubber weight is very light.
PRO XP is a great choice for players who want the ability to perform effectively off the table. This is not a typical Chinese rubber; the top sheet is supple and very thin. PRO XP has an extremely elastic under pip structure that will allow the rubber ample time to load spin prior to release.
Sponge 2.0 mm
Speed: 93
Spin: 92
Control: 85

---
Customers who purchased LKT Pro XP also purchased:
Ordering Information
Rubber FAQ and Guide to Choosing Rubber - what you need to know when buying rubber.
Compare rubber ratings - compare ratings to other sheets.
Free shipping over $50 to continental US locations.
Best Price Guarantee We guarantee to have the lowest prices (shipping included) when compared to US table tennis stores. Please tell us if you find a lower USA price.
Reviews of LKT Pro XP (26)
Submit a short review about LKT Pro XP.

View all 26 Reviews
External Review on May 16, 2013
Feels very much like an economical version of a traditional Japanese rubber. So, it is a good all-round rubber. Feels soft with good sensation, is forgiving ie easy to use, has a little 'pop', can do all shots. Recieving serve is not too difficult because the top-sheet is grippy but not tacky.When I first started training, I used this on an OFF- all wood 5 ply.
---
| | |
| --- | --- |
| | External Review on April 7, 2013 |
just the right combo of mechanical grip and tackiness for me. slow but slapped it on gergely, have some kick in it now.opening loops easy,super control.i have 2.0 bh/fh, can place ball where i want to.been six months since i put it on, still ok.
---
External Review on December 6, 2012
Behaves more or less like the pro XT, main difference is tackiness, XP is less tacky then XT. However the tackiness on the XT wears off very fast so they feel about the same.
---
| | |
| --- | --- |
| | External Review on October 27, 2012 |
I was looking for a replacement rubber for my 9 year old nephew. Despite his young age, many are impressed with his skill set. He's a loop attacker and he has defeated players older and more experienced than him. Yasaka Mark V served him well the past two tournaments allowing him to place high in the standings. The Mark V he used was bought pre-owned and time came I had to replace it. I initially used LKT Sound but found it to be too fast on a Huaruite Redwood Carbon blade. Then I came across an LKT Pro XP at a local sports shop and thought about reading reviews about it.

Seguso's review, that the ball tends to have a short arc when looped, convinced me to buy the Pro XP. In short, I and my nephew are amazed. His shots became more consistent, spins where more powerful and he can easily loop underspin. We placed this on a Galaxy CN1 Children's Carbon blade (an ALL, ALL + blade) and the combination fits well to my nephew's style of play. Haven't tried it though on the faster Huaruite blade. I'm sure the results would be different.

To more seasoned players, this rubber would appear to be slow and you need to pair this with a fast carbon blade to get some decent speed. But if you are looking for something that will allow you to put the ball into the table more consistently, then this could be rubber for you. Also, I think you can use this as your backhand rubber especially if you love looping on that side of the table.
---
| | |
| --- | --- |
| | External Review on October 5, 2012 |
Combination of mechanical grip and tackiness. Black sheets seem to be a bit tackier than red sheets. Medium-tacky rubber that also performs very well off the table. Speed is ok, but it isn't the fastest. You have to make a full looping movement to be consistent. Control is amazing when blocking. Super light. Great rubber when you like soft sponge

View all 26 Reviews