RITC 802-40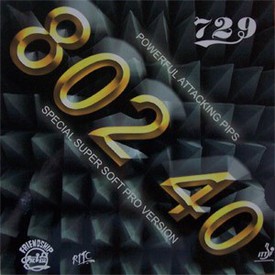 Price: $14.00

Great hitting rubber
Good spin for a pip
Produces good spin
Suitable for attacking players
ITTF/USATT/CTTA approved
The true HAMMER of short pips. This product is suitable for close to the table hitters and power blockers. Very large conical shaped pips, tops are cross checked and rubber is hard and spinney.
This is a special production of 35 degree soft sponge, (note that this is NOT the poor playing German version). This sponge has solved the control problems of 802-40. The special 35degree adds to spin and also gives this hitting pip some much needed touch. 802-40 is probably one of the best all out attack pips on the planet.
Speed: 120
Spin: 80
Control:110
Deception: 0
Sponge: Soft
---
Customers who purchased RITC 802-40 also purchased:
Ordering Information
Rubber FAQ and Guide to Choosing Rubber - what you need to know when buying rubber.
Compare rubber ratings - compare ratings to other sheets.
Free shipping over $50 to continental US locations.
Best Price Guarantee We guarantee to have the lowest prices (shipping included) when compared to US table tennis stores. Please tell us if you find a lower USA price.
Reviews of RITC 802-40 (18)
Submit a short review about RITC 802-40.

View all 18 Reviews
| | |
| --- | --- |
| | External Review on October 10, 2013 |
A fast, aggressive rubber. Works for a one-dimensional bang-bang game. Too spinny for deception.
---
| | |
| --- | --- |
| | External Review on August 2, 2013 |
This SP is everything it is billed to be.

Great speed. Honestly when you drive & smash opponents will have a hard time getting it back on the table given the speed and relative lack of spin they're used to.

Great control and touch (compared to inverted), spinny (relative to other short pips) if that's what you are looking for.

If you are coming form Inverted, this will be the best transition for you. It will be less spinny than any inverted (and that's a good thing. Otherwise you wouldn't be looking at SP) but not so much to where you can't adapt.

I really like the balance this rubber brings for me in terms of ability to attack, blocking, touch & control. Great rubber. Great price. Well worth trying it out.

I have the 802-40 in 2.0 sponge 35 degrees.
---
External Review on April 15, 2013
My first short pip since switching over from inverted. Great for quick blocks, flat hits, and smashing. Control is excellent and I can pound the ball exactly where I want it. Keeping my opponent off balance and on the run. I am really happy with my introduction to sp
---
| | |
| --- | --- |
| | External Review on April 13, 2013 |
These short-pips are awesome. Hitherto, my favorite backhand rubber has been Bryce Speed bbecause of its blocking and smashing capabilities. I can loop with just about any rubber with my backhand, but the spin and sensitivity to spin that my rubber had effects my blocking and the ease with which my opponents return my loops. Bryce Speed is not that sensitive to spin and is amazing at blocking (much better than any tenergy) but the loops are not very spinny. I switched to this rubber in 2.2 to amplify my block and smash game on my backhand and still be able to hit an occasional loop when the situation calls for it. I have not been disappointed. For $10 a sheet, it is also an excellent deal. I use a primorac carbon and found the transfer from inverted to short-pips very easy with this rubber. I highly recommend it from anyone thinking about swit!
ching from inverted. For the price, you cannot go wrong.
---
External Review on December 26, 2012
I posted a review on this rubber here:

http://tabletennisonline.org/short-pips-rubbers/729-802-40-mystery-iii-review/

View all 18 Reviews