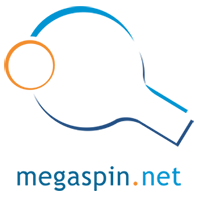 Holiday Delivery Deadline For delivery by December 24, this item needs to be ordered by December 17.
LKT Rapid Speed
Price: $13.99

Rubber designed for the speed glue ban.
Inverted rubber with a unique vertical pip array and structure, combined with high elasticity gives this rubber the ability to generate high spin and massive speed wile maintaining a low trajectory.
Speed: 90
Spin: 100
Control: 80
---
Customers who purchased LKT Rapid Speed also purchased:
Ordering Information
Rubber FAQ and Guide to Choosing Rubber - what you need to know when buying rubber.
Compare rubber ratings - compare ratings to other sheets.
Free shipping over $50 to continental US locations.
Best Price Guarantee We guarantee to have the lowest prices (shipping included) when compared to US table tennis stores. Please tell us if you find a lower USA price.
Reviews of LKT Rapid Speed (28)
Submit a short review about LKT Rapid Speed.
| | |
| --- | --- |
| | External Review on January 1, 2013 |
Quite spinny on serves and topspins.
Better on FH, than BH.
Could be nice on blade with some flex.
Don't recomend to put it on fast carbon blades.
Great durability - after almost year there is no signs of wear off.
Rubber for active smasher or looper, not for passive chopper.
Sponge hardness is almost the same as 729 fx and bit harder than t05.
Ball bounce could be better if compare to xiom vega, acuda,t05.
Therefore you need to do more handwork, especially if away from table.
Great for allround plays with loops and attacks.

Edit:
Spnge hardness is 54. For example acuda s3=40, s2=46, s1 turbo=51.
So it is not medium, but hard.
Not suitable for European style of play.
---
External Review on October 8, 2012
I buy and put on my BH played couple hours, good for allround plays. not too fast, not too slow, good control. I like the price and the result.
---
| | |
| --- | --- |
| | External Review on October 2, 2012 |
It's a nice rubber, goes well for bh as well as fh at beginner levels. A medium-hard sponge enabling some speed if you really make the effort. The best between chinese clones (better than Cream Transcend, Focus, Pro XT ).
To me it feels a lot more tackier than Cream transcend and on my sheets tack didn't wear off. With these 2 i learned to appreciate the advantages of tackiness. For controlled play this rubber is better than most.
Not in any way near the new tensors or DHS but a really nice rubber.
Update 1: Speed is definitely overrated, it cannot be 8.8(close to acuda s2). More 8.0, an all around rubber.
---
| | |
| --- | --- |
| | External Review on September 26, 2012 |
Very nice rubber. I used it in BH. a little bitt hard to push with it and has a very low throw. good and consistente Blocking.

Good allround atttacking rubber. best suited for FH. good price/quality rate.
---
| | |
| --- | --- |
| | External Review on August 4, 2012 |
Lost it's tackiness after about 2 weeks. Pretty fast and good spin, low trajectory/throw angle. A decent rubber for a low price.
---
External Review on July 16, 2012
This rubber has elastic topsheet. After using it, wipe with water then don't put plastic cover on it. After 1 day, tackiness will gone and you get japan style rubber with great spin. Mine can generate more spin than my xiom vega europe and mercury 2.
Update: after 3 months of intensive use my sheet is still grippy and easy to generate spin. This rubber is definitely for flex blade if you want to use it for loop.

My rating:
Speed = 8
Spin = 9
Control = 7.5
Throw angle = medium-low
---
| | |
| --- | --- |
| | Review by teruolin on May 15, 2012 |
Based on the feedback of the purhasers of this rubber,I bought a red,2mm rubber. I was very disappointed, the rubber is so slow and I can hardly play it. Although the rubber is inexpensive, but it is not worth the money .
---
| | |
| --- | --- |
| | External Review on May 9, 2012 |
I have this rubber in max thickness on both sides for 7 months now, it's dynamic, balanced, and after 7 month use it doesn't show any sign of wearing out !

It's very good for :
-Flat hitting
-FH looping
-Blocking

at maximum thickness I find it hard to use for BH looping but my technique is far from perfect

After testing this I am NEVER going to pay for costly rubbers anymore, I have compared it to many "big brands" my teammates are using and I didn't prefer theirs ! instead many have bought mine and are now playing with it.

Say NO to expensive table tennis !
---
| | |
| --- | --- |
| | External Review on April 8, 2012 |
very good rubber for beginers players.
i recommended it
---
| | |
| --- | --- |
| | External Review on January 10, 2012 |
I get this rubber and I am very surprized with it. Good speed and easy to play. Something like most expensive analogs.
---
| | |
| --- | --- |
| | External Review on December 18, 2011 |
Tackier than Tenergy and Galaxy Mars V2. It is hard going back to a tackier rubber once your game has adjusted to a Tenergy like rubber. It might be ok on a slower blade, i am using Photino and it appears the dwell time is a bit longer and makes all the balls go over the table due to the tackines. if i had known this i would not have bouth this product. at $14 i can bear that.
---
External Review on December 1, 2011
I an intermediate level beginner and I have this in 2.0 on both forehand and backhand of a DIY paddle, total weight 175g. I can't compare it to other rubber but I will say i can loop and block well from both sides, and I'm learning to chop with it too. Less control than what I'm used to, but anything with decent spin has less control than premade junk rackets. Seems like a pretty balanced choice for an offensive/all around game.
---
| | |
| --- | --- |
| | External Review on November 25, 2011 |
very good for loop, drive, smash. good control.
---
| | |
| --- | --- |
| | External Review on September 14, 2011 |
I really like this rubber. It works well on BH or FH. For the speed this rubber offers, the control is really good. It reminds me of a faster and more controlled version of the 729 Cream Transcend.
---
| | |
| --- | --- |
| | External Review on July 3, 2011 |
Excellent company, been using them for almost 1 month now. Support responds within 10mins and server is excellent and the price is nothing!

10/10 Hopefully they will be good to me for a long time because it seems like a excellent company.
---
| | |
| --- | --- |
| | External Review on April 24, 2011 |
Got this based on reviews on this site, very nice rubber, bit on the heavy side. Faster and with more power than Mark V with around the same spin, Medium firm sponge, throw is medium low so good for fast loop drives, looping backspin needs good technique and blade with some flex but this is not a problem. Used on FH of HS Cryzer for at least 3 months, it is fantastic for the price, have not found anything comparable, really the first rubber I found to replace Mark V or Sriver after long search.
---
| | |
| --- | --- |
| | External Review on February 8, 2011 |
Tried these at 2.0mm on a TBS. Definitely had much better speed and consistency compared to Rapid POWER. Quite reliable rubber. Excellent for the price.
---
| | |
| --- | --- |
| | External Review on January 14, 2011 |
Very good rubber. Loops are quite fast with low trajectory. Rubber is slightly tacky and the tackiness is gone after a few sessions of play. Mine is a red 2.2 rubber. Control of the ball is excellent and the spin it imparts is way above average. If you are an attacker and are looking for value for money, this is a very good choice. Great value for $14. Durable too.
---
| | |
| --- | --- |
| | External Review on December 13, 2010 |
very special rubber, very spin, very control and faster speed
---
| | |
| --- | --- |
| | External Review on December 6, 2010 |
Very good rubber. Balanced and capable of doing many different things well. Not a champion of spped, but keeps enough reserves of speed whenever a players needs them. Quite spinny, good for serves and pushes. Able to finish points. Very controlled on blocks. Overall a very reliable and well made rubber, equally balanced for a controlled offensive game. Paired with OFF- or OFF blades gives a good weapon for a good player to apply his virtues. Recomended !!
---
| | |
| --- | --- |
| | External Review on November 14, 2010 |
Good looping rubber but I faced difficulty when someone play underspin because the rubber has low throw-angle. I recommended it for FH.
---
| | |
| --- | --- |
| | External Review on October 28, 2010 |
Best out of Rapid series. Does everything well. Relatively low throw, fast, spinny, good topsheet, very confident and pretty much linear. This is more or less a cheap contemporary substitute for Sriver L (no regluing required!). Sensitivity is also pretty low, which is good. Very good control in short game. Don't put it on bouncy carbon blades - combo would be too much to handle for an under 2200 player (unless you are an all-out attacker who doesn't care much for touch & placement shots). I prefer it on BH but it can play on FH as well (you just need a flexier blade if you intend to loop with it).

Again - one of the best of the new generation rubbers under $30-40 dollars (it's $14 actually).
---
| | |
| --- | --- |
| | External Review on September 20, 2010 |
it's a tacky rubber and very fast "for the price". it's very good rubber for fh or bh. a lots of control too and very very durable.
---
| | |
| --- | --- |
| | External Review on May 11, 2010 |
very good tospin sheet with good control on all strokes, recommended for medium offense topspin and block players, i found it much better on fh then on bh

price is really good
---
External Review on January 25, 2010
Topsheet is mildly tacky. Sponge is about 40 degrees. I liked it on my Primorac Carbon. Too slow for my Power Drive or my Adolescen. This is a nice control looping rubber with enough power to finish a point. However, I don't recommend it for all out power play. Great for BH control shots but can also be used for the FH.
---
| | |
| --- | --- |
| | External Review on January 23, 2010 |
I have tried many of the 729 and LKT sheets over the last couple years. I agree with Arthur's comments--this is my favorite so far of the 7-8 different Chinese sheets I have tried including the Soft version of this, Geospin Tacky, Transcend Cream, several of the 729 sheets LKT XP Pro , Torrent,

reminds me of Coppa-a sheet I used for 6 or so years.
---
| | |
| --- | --- |
| | External Review on November 17, 2009 |
I am using this rubber on my FH on a Dawei GTS Carbon blade.

This rubber seems faster than it probably is due to a fairly low arc.

I am able to generate a decent amount of spin and the control is very good.

For the price you can't beat the quality of this rubber...
---
| | |
| --- | --- |
| | External Review on May 20, 2009 |
This would make a great looping rubber. It has a comfortable throw angle medium to medium high. It's a completely non-tacky rubber so it will feel like a Euro/Japanese product.

Another great alternative for your Sriver or Mark V.

Back to LKT Table Tennis Rubber


Back to Table Tennis Rubber



All items are in stock unless otherwise stated.

If you need help or advice do not hesitate to contact us.