LKT Pro XT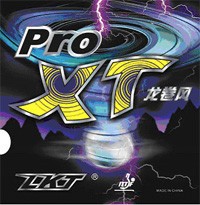 Price: $14.00

Next generation of rubber formulation. Engineered for tackiness. Thin top sheet with unique under pip structure. Fitted for over the table loop. Deadly serve to attack transition. Special XT sponge designed to enhance performance. Total rubber and sponge weight is very light.
Speed: 100
Spin: 120
Control:120
Sponge:Med
---
Customers who purchased LKT Pro XT also purchased:
Ordering Information
Rubber FAQ and Guide to Choosing Rubber - what you need to know when buying rubber.
Compare rubber ratings - compare ratings to other sheets.
Free shipping over $50 to continental US locations.
Best Price Guarantee We guarantee to have the lowest prices (shipping included) when compared to US table tennis stores. Please tell us if you find a lower USA price.
Reviews of LKT Pro XT (18)
Submit a short review about LKT Pro XT.

View all 18 Reviews
| | |
| --- | --- |
| | External Review on June 9, 2013 |
Not bad for the price. Lower throw and slightly lower speed than Palio CJ8000. so keeps more drives on the table but also nets more balls. My experience with the 2.0mm, using Bfy Free Chack on a Sanwei M8 blade, is that the throw is medium low, not medium high. Spin is different than Palio. can vary the spin well, and sometimes produce nice kick off the table, but less consistent than Palio. Sponge feels dead on touch shots and close loops. combined with the low throw, forces me to think harder on loops than Palio, which loops on autopilot. Weighs 54g uncut (red and black each). Creates different problems for opponent than Palio. not sure which is harder to play against. I might prefer the 2.2mm to the 2.0mm.
---
External Review on May 17, 2013
I use this on WangXi Dotec blade on FH. This cheapo rubber has so much control ! I could literally direct my push, chop wherever I want. Smash, loop over table is adequate. If you smash, loop say from 3 meter behind table, that's where this el cheapo short. I didn't boost this right now, maybe later.
---
| | |
| --- | --- |
| | External Review on November 22, 2012 |
Just had to test this rubber. Ridicolus price. Didnt have much expectations on the rubber, but damn i was surprised the first time i used it. Straight ot of the package it was tacky, but after just an hour of play it was almost gone, wich i liked.

It behaves like a euro allround rubber prerfect for the player who doesnt play the fastest table tennis.

Serves: Due to soft sponge it is really spinny on serves eaven without tackiness. The topsheet feels grippy and not tacky. Good control on length.

Chops: Very good. Good control and a hard bite wich is hard to loop back

Loops: Spinny, however slow. Needs to be struck really hard or you are gonna get counterlooped. Good kick wich can trick some opponents.

Drives/smashes: Not the best. Lacks the speed.

Overall: Great allround rubber at a very good price. For the pure offensive player it is to slow, but for a player not wanting the highest speed, or for a player who is learning the offensive play this is a very good and cheap rubber!
---
| | |
| --- | --- |
| | External Review on September 11, 2012 |
Nice rubber it is . Though a recreational player too am I let me tell you it is a great rubber for a ridiculously low price . Yesterday I had a couple of hours practise with it again on my spare Yasaka Sweden Classic blade with R802 short pips on it . It may be comparable to H3 Neo a bit softer less tackier but very grippy and controllable at the same time . Personally I like it very much . Easy under- and topspins, short serves and it seems to be durable but it will turn out later .
---
External Review on June 5, 2012
I'm a recreational player, this rubber is glued to a Y-H T8. An all-round rubber for my backhand, good speed, good spin, good control, very consistent.

View all 18 Reviews