Killerspin Kido 7P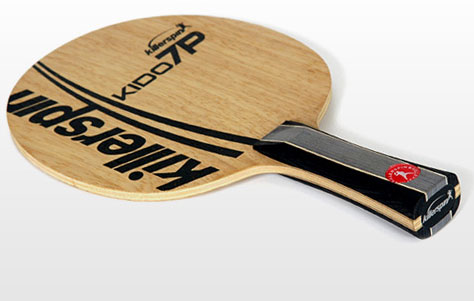 Price: $90.99

This is a sealed blade - the surface is varnished for ultimate protection.
The all-new Kido blade series was designed for the table tennis player who prefers an all-wood blade that has kick, precision placement, and incredible feeling. The 7P has the best balance of speed and control in the Kido wood series, and is designed for all-around players with an aggressive style.


Specifications
Premium Wood
Vibration Control
Large Sweet Spot
Dimensions: 6" x 6 3/16"
Weight: ~87g (fl, st)
7 Layers, 6.2mm thick
Ratings
Speed
90
Control
84
---
Customers who purchased Killerspin Kido 7P also purchased:
Ordering Information
Blade FAQ and Guide to Choosing a Blade - what you need to know when buying a blade.
Compare Blades - side-by-side blade rating comparison.
Blade weight Please note that the actual weight of a blade may vary by up to 8g.
Free shipping over $50 to continental US locations.
Best Price Guarantee We guarantee to have the lowest prices (shipping included) when compared to US table tennis stores. Please tell us if you find a lower USA price.
Reviews of Killerspin Kido 7P (8)
Submit a short review about Killerspin Kido 7P.

View all 8 Reviews
| | |
| --- | --- |
| | Review by guest_1en5spuf on July 2, 2013 |
Very poor quality. Handle broke in a week!
---
External Review on November 20, 2011
I play with Tenergy 05 FH and Long Pips on BH. FH worked well, but its too fast to use for much chopping.
---
| | |
| --- | --- |
| | Review by janekb on September 12, 2011 |
Love the way it plays but mine crack after one month of playing right wheare the handle meets the head and i did not bang against table or dropthat.Bad quality control.
---
| | |
| --- | --- |
| | Review by tbattaglia on July 31, 2011 |
Love it....I also have a Donic Epox Offfensiv, and I have to say that I much prefer the Kido 7P. It feels more solid and faster with better feel of the ball. I feel that I control both equally well, but the KS is just a bit faster. I'm currently using it with Nitrix-4Z on both sides vs. the Donic w/ Barracuda on both sides. Ten stars, as for me, it's the best I've used yet.
---
| | |
| --- | --- |
| | Review by cory_6699 on July 11, 2011 |
I am currently using this blade with fortissimo on my forehand and forza 4z on the backhand. The flared handle and the way this blade loops is amazing. All I can say next is WOW

View all 8 Reviews