Killerspin GT2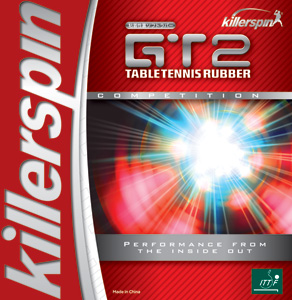 Price: $37.99

The new Killerspin GT2 Rubber is a spinny rubber designed for the post-glue era of competitive table tennis. The GT2 combines an elastic, spinny top-sheet with a powerful sponge that create amazingly fast shots with heavy spin. The tacky top-sheet works perfectly to generate a variety of serves with plenty of spin. The GT2 is light, even if you use a heavy, fast blade.
Made in China.
ITTF approved.
Ratings
Speed
96
Spin
96
Control
88
Available thicknesses
2.0mm, max
Weight (cut to racket size)
42-43g
---
Customers who purchased Killerspin GT2 also purchased:
Ordering Information
Rubber FAQ and Guide to Choosing Rubber - what you need to know when buying rubber.
Compare rubber ratings - compare ratings to other sheets.
Racket Assembly Limitation: We regret that we currently can only assemble this rubber sheet to a Killerspin blade.
Free shipping over $50 to continental US locations.
Best Price Guarantee We guarantee to have the lowest prices (shipping included) when compared to US table tennis stores. Please tell us if you find a lower USA price.
Reviews of Killerspin GT2 (2)
Submit a short review about Killerspin GT2.
| | |
| --- | --- |
| | External Review on August 20, 2010 |
If you're looking for a CONSISTENT, HIGH QUALITY Hurricane 3 replacement and you use a fast carbon blade, look no further. This rubber is very much in the same vein as H3, but has some notable differences. Feel is harder than commercial #20 or NEO. Sponge is more elastic as well. Topsheet is similar, but appears even higher quality. Originally I was disappointed with this rubber on my ALL+ BT550, it seemed to act like a stiffer, less dynamic H3, yet was less forgiving. I was very disappointed, as it lacked any sort of "speed glue effect" (sound or spin or control) However, once I put it on an AVX C555 Ma Wenge (OFF Carbon), it really began to shine. Not only did it make the blade MORE CONTROLLABLE than with H3, it also provided a much deeper range of gears. Top end speed and spin were noticeably greater, service was pinpoint precise. Blocking, FH push and smashing were all solid. Loop driving was ridiculous. Long arc, extreme power. Shape of attacks looks much like what H2 users describe. Unlike H3, which works on a variety of blades, I would only pair this rubber with OFF / OFF+ blades that are stiff. Too much flex in the blade (like the BT550) and you lose everything that makes this rubber better than H3.
---
| | |
| --- | --- |
| | Review by nikhil1980 on November 24, 2009 |
A very slow rubber, quite spinny.