Killerspin Fortissimo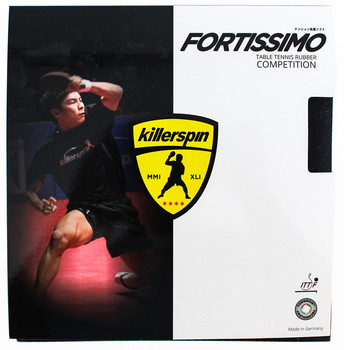 Price: $45.99
$49.95
Save $3.96 (8%)

Detailed Killerspin Fortissimo Review
The Ultimate Innovation in Rubber Technology! The Killerspin FORTISSIMO is an extremely innovative rubber made especially for high-level topspin players. The Fortissimo synchronizes modern table tennis technology to make this rubber unlike any other! The rubber consists of a hybrid top-sheet made of an elastic compound, which generates amazing rebound, as well as a soft compound that helps grab the ball and create more spin. Equal components of natural and synthetic rubber give an extra spring effect.
The Fortissimo features the best of 'East meets West', incorporating a made-in-Japan sponge, ideal for powerful top-spin shots, as well as German 'Torqsion Technology', which is stronger than normal tension standards, giving the rubber an added performance edge. All of this technology is protected by Killerspin's plastic bag to maintain the rubber's integrity from production to the court. Made in Germany. ITTF approved.

Used by Killerspin player Biba!

Ratings
Speed
106
Spin
94
Control
94
Available thicknesses
2.0mm, max
Weight (cut to racket size)
42-43g
---
Customers who purchased Killerspin Fortissimo also purchased:
Ordering Information
Professional racket assembly is offered on most orders free of charge. Please add a blade and 2 rubber sheets to the shopping cart to activate the racket assembly option on the shopping cart page. See Racket Assembly FAQ. You may also want to assemble your blades and rubber sheets yourself.
Instead of choosing rubber sheets and a blade, you may select a ready-made racket from our rackets section.
Rubber FAQ and Guide to Choosing Rubber - what you need to know when buying rubber.
Compare rubber ratings - compare ratings to other sheets.
Racket Assembly Limitation: We regret that we currently can only assemble this rubber sheet to a Killerspin blade.
Free shipping over $50 to continental US This applies on all items except Newgy items.
Best Price Guarantee We guarantee to have the lowest prices (shipping included) when compared to US table tennis stores. Please tell us if you find a lower USA price.
Reviews of Killerspin Fortissimo (13)
Submit a short review about Killerspin Fortissimo.

View all 13 Reviews
| | |
| --- | --- |
| | External Review on September 3, 2012 |
Black and Red max sponge
Speedier than Bryce speed. a medium to high throw rubber. A bit shiny top surface sort of special additive were use on this rubber. Pair it with Killerspin Diamond CQ blade. At first its a little too bouncy and hard for blocking but once you get used to and right angle of blade, this set up is a beast. Tensor rubber is decently price.
---
| | |
| --- | --- |
| | Review by guest_t93acox on April 18, 2012 |
He probado varios blades y rubbers, hoy probe los Killerspin Fortissimo y realmente son otra historia. Yo tenía el blade de la Jet 600 y decidi probar unos nuevos rubbers. Gran combinación. Pruébenlos son excelentes, 5 estrellas, the very best, la ultima coca cola del planeta, la cereza del helado, high tech, los mejores que he probado hasta ahora.
---
External Review on December 9, 2010
Fast rubber same as many rubbers in the market. Spin is very poor. Not a good rubber to combine with a very fast blade. Rebounding is too fast. Probable with a soft blade could have better properties.
---
| | |
| --- | --- |
| | External Review on August 28, 2010 |
The Killerspin Fortissimo is Killerspin's answer to post-ban speed-glue effect rubbers. First off, I want to make it clear that Fortissimo IS NOT A TENERGY REPLACEMENT. There is very few similarities between the two, the playability and appearance are very different. With that said, I will begin the review. Some physical features: the rubber is tuned and came with a reverse dome out of the package. The sponge felt fairly firm and the topsheet had a very shiny sheen to it. All in all, Fortissimo looked of very high quality. In regards to actually playing with it: the rubber was fast but controllable (I had it in MAX sponge). I was also very impressed with its glue effect: the feel was there, and the sound was very similar to a glued up rubber. The spin was decent, although I was a bit disappointed since the topsheet looked very grippy, almost tacky. Loops were good, however, you have to penetrate the sponge (drive loop) rather than use solely the topsheet (brush loop) in order for the rubber to be effective. It was a bit hard to make ridiculous arcs with Fortissimo because of the topsheet, and also because of the low throw. Smashes were very good and easy to perform. The short game was good and controllable: pushes and touch shots could be done easily, however I occasionally dumped my pushes in the net or overshot off the table. Serves were good, but were not extremely spinny. Blocks were a breeze and easy to place. Some unique features I noticed about this rubber (good and bad) is: its mushiness in rallies, its extreme low throw, and the way the ball tends to slip a lot on extreme brush looping. Just pressing on the rubber itself, the sponge was firm. however, during play, the rubber felt a bit too mushy for my taste, softer than a comparable rubber like Boost TX (and of course Tenergy 05). The low throw was a bit ridiculous to me as well, and it took me some time to adjust. At first, counterhits went into the net, pushes went into the net, and brush loops/arc loops dived into the net. However, as you hit a bit harder, fully using the sponge, the throw got a little higher, and the result would be a devastating shot loaded with power and spin. Many of my opponents dumped my low-arc/spinny loops into the net, surprised at how fast and low my loops were. Another negative was the ball slipping, that I experienced a lot. The grippy/almost tacky topsheet disappointed me in rallies, and it almost seemed impossible for me to brush loop or make a serve extremely spinny. All of my spin shots required some usage of the bouncy sponge. As a result, the mechanical spin of Fortissimo is quite high, but the topsheet spin - not so much. In conclusion, the Fortissimo was a fast speed-glue effect rubber that I enjoyed using on my backhand (not so much on the forehand though). The Fortissimo is a bit on the pricey side compared to what it can do ($49.99), but I occasionally see it on sale for ($39.99). I would recommend it for offensive players who are looking for a good fast backhand rubber, especially those who want to use Tenergy but cannot afford it on both sides. I personally am using Tenergy 05 on the forehand and Fortissimo on the backhand, and I am loving this setup for my two-winged looping game! Special thanks to TableTennisRatings.com and Killerspin for making this review possible!
---
| | |
| --- | --- |
| | External Review on August 8, 2010 |
This is a very good rubber for fast looping and smashing. It plays best when glued to an off+ blade like gergely, timo bol tri-carbon or sardius. I have mine glued to an unknown carbon ritc 729 rated off+ blade and its performance remains rock solid even when hitting heavy loops. Topspins and pushes are very controlled. It plays better than a btfly bryce in terms of creating heavy spins because of its sticky topsheet. One of the downsides is that it is not as durable as some of high end butterfly products. Little cracks begin to appear in the middle portion whre the ball is frequently hit. Some say this is the case in some tensor rubbers. The cracks become more noticeable and gets wider each time. In a nutshell, This is one of the best rubber in the market today. You get what you pay for. No wonder this is a bestseller.

View all 13 Reviews

Back to Killerspin Table Tennis Rubber


Back to Table Tennis Rubber



All items are in stock unless otherwise stated.
If you need help or advice do not hesitate to contact us.