JOOLA Rosskopf Emotion with Express One Combo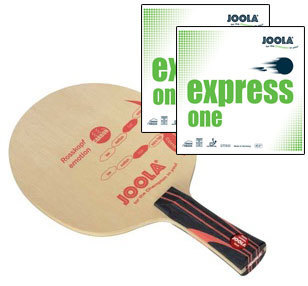 Price: $184.95


$219.85
Save $34.90 (16%)

A complete racket is a great present to give your dad this Father's Day. This special combo starts with our Rossi Emotion blade with a flared handle. The Emotion is one of our most popular blades because it was developed by Joerg Rosskopf and is made up of only the highest quality materials. We then add our Express One rubber to the forehand and backhand. This rubber provides excellent speed glue effect and works well in conjunction with the Emotion blade to provide the player with a fantastic playing experience. All the components of the finished racket are ITTF-approved, so it can be used in any USATT-approved tournament.
---
Customers who purchased JOOLA Rosskopf Emotion with Express One Combo also purchased:
Ordering Information
Racket Assembly FAQ - Learn about free racket assembly, pre-assembled rackets and more.
Free shipping over $50 to continental US locations.
Best Price Guarantee We guarantee to have the lowest prices (shipping included) when compared to US table tennis stores. Please tell us if you find a lower USA price.
Reviews
Submit a short review about JOOLA Rosskopf Emotion with Express One Combo.