LKT Transformer Pro XF (eXtra Fast)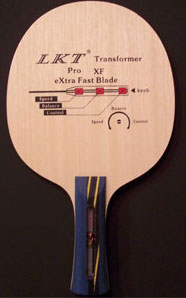 Price: $18.00

Flared handle
The Pro eXtra Fast is a blade made to give attacking power close and mid distance. A total of 5-ply construction: 5-ply including a HUGE high grade balsa core that makes up over 70% of the total thickness. The craftsmanship of this bat is excellent with a sleek look and larger sized European flared grip.
5 ply construction
Adjustable balance in handle
Adjusts from OFF to OFF+
For ATTACK style of play
ITTF/USATT/CTTA Approved
FLARED HANDLE
Specifications:
Speed:90
Control: 80
Weight: 82g
Thickness: 6.9mm +-.3 (balsa core is about 5mm of this)
Aprox. head size: W= 151mm H= 158


---
Customers who purchased LKT Transformer Pro XF (eXtra Fast) also purchased:
Ordering Information
Blade FAQ and Guide to Choosing a Blade - what you need to know when buying a blade.
Compare Blades - side-by-side blade rating comparison.
Blade weight Please note that the actual weight of a blade may vary by up to 8g.
Blade Sealing/Varnish
You may
add blade sealing
for this blade. Sealing prevents wood splintering.
Free shipping over $50 to continental US locations.
Best Price Guarantee We guarantee to have the lowest prices (shipping included) when compared to US table tennis stores. Please tell us if you find a lower USA price.
Reviews
Submit a short review about LKT Transformer Pro XF (eXtra Fast).