Holiday Delivery Deadline For delivery by December 24, this item needs to be ordered by December 17.
Dynamic TT Textbook Training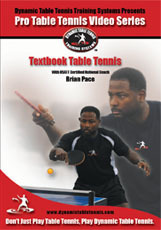 Price: $43.95

Textbook Table Tennis focuses on how to play each shot in the sport of Table Tennis technically perfect by using the theory called "Dynamic Harmony". It covers every skill in the sport of Table Tennis except for the Backhand Loop.
Preview:
---
Customers who purchased Dynamic TT Textbook Training also purchased:
Ordering Information
Free shipping over $50 to continental US locations.
Best Price Guarantee We guarantee to have the lowest prices (shipping included) when compared to US table tennis stores. Please tell us if you find a lower USA price.
Reviews of Dynamic TT Textbook Training (4)
Submit a short review about Dynamic TT Textbook Training.
| | |
| --- | --- |
| | External Review on September 27, 2010 |
Great instructional dvd. Better suited for the intermediate to advanced player. The planning of this dvd was well thought out. Everyone will get better, but only if they choose to do the drills offered. It's a good dvd to watch but a better dvd if you get off your butt and do the work. I also like the fact that Brian didn't try to teach you everything or try to solve all your table tennis problems with one dvd. Good job Brian. I will continue to purchase your products.
---
| | |
| --- | --- |
| | External Review on April 7, 2010 |
It says its a DVD for beginners but its actually not. Shows no technique at all
---
| | |
| --- | --- |
| | External Review on December 10, 2009 |
I wanted to like this video. I watched Brian's videos on youtube before buying this DVD and he is clearly very passionate about table tennis and improving play in the US. But the DVD did not help my technique at all. The "dynamic harmony" theory is a good way to describe 3 important elements of a stroke (position of ball, racket angle, foot position), but there is so much more, such as wrist/forearm snap, weight shift, hip-to arm coordination, etc, etc that is not covered. Also, a few important strokes such as the BH loop are not covered in the DVD. The section on serves describes the different types, but never says how to actually perform these serves.
---
| | |
| --- | --- |
| | External Review on December 3, 2009 |
After review, I found this to be an excellent instructional video. Well scripted. Easily understood even for the Novice player. I highly recvomment this video for the beginners, intermidiate level players.

Back to Instructional Table Tennis DVDs


Back to Table Tennis DVDs



All items are in stock unless otherwise stated.

If you need help or advice do not hesitate to contact us.