Holiday Delivery Deadline For delivery by December 24, this item needs to be ordered by December 17.
Dynamic TT Competition Training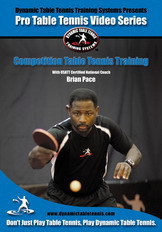 Price: $43.95

Competition Table Tennis focuses on training to produce a "Peak Performance Period" where you will be playing your best at the Event that you have targeted. This covers all the skills you need to go over to make sure that you are prepared to use those shots when it counts.
Preview:
---
Customers who purchased Dynamic TT Competition Training also purchased:
Ordering Information
Free shipping over $50 to continental US locations.
Best Price Guarantee We guarantee to have the lowest prices (shipping included) when compared to US table tennis stores. Please tell us if you find a lower USA price.
Reviews
Submit a short review about Dynamic TT Competition Training.

Back to Instructional Table Tennis DVDs


Back to Table Tennis DVDs



All items are in stock unless otherwise stated.

If you need help or advice do not hesitate to contact us.