Butterfly Outdoor Playback Rollaway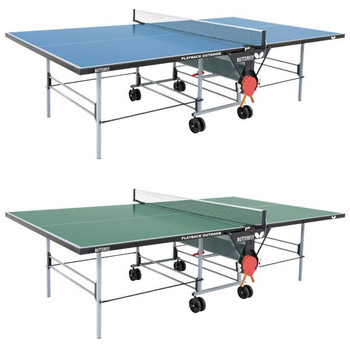 Price: $799.99
$924.99
Save $125.00 (14%)

FREE SHIPPING with liftgate delivery to continental US locations.
• A durable outdoor table.
• The same SLT (Synthetic Laminate Top) as the Outdoor Home Rollaway, but sits on a different frame, which can put up with even more abuse than the regular Outdoor Home.
• This model has the same safety levers on each table half for effective child safety.
• Net and posts are included and can remain attached to the table in both the playback and storage positions.
• Legs are indented from the ends and sides of the table.
SPECIFICATIONS:
Top Thickness: 1/4" Synthetic Laminate Top
Rail/Rim: 1 1/2" Steel Rail
Legs: 1" Square Steel
Wheels: 5" Double Wheels
Weight: 160lbs
Safety Feature: Locking Lever
Net: Club
ITTF Approved: No
Playback Position: Yes
Adjustable Feet: No
Accessory Holder/Hassle Free Net: Yes (Racket & Balls not included)

---
Customers who purchased Butterfly Outdoor Playback Rollaway also purchased:
Ordering Information
Table Comparison Chart - compare ping-pong tables.
Guide to Choosing a Table Tennis Table - what you need to consider when buying a ping-pong table.
Free shipping over $50 to continental US locations.
Best Price Guarantee We guarantee to have the lowest prices (shipping included) when compared to US table tennis stores. Please tell us if you find a lower USA price.
Reviews
Submit a short review about Butterfly Outdoor Playback Rollaway.