Andro Plasma 430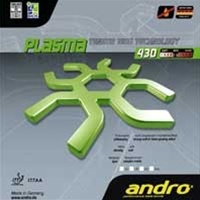 Price: $43.95
$49.68
Save $5.73 (12%)

The PLASMA 430 will appeal to every player right from the beginning. The sponge is 5 degree softer compared to the 470. In combination with its high performance upper layer every topspin ball will get an immediate fantastic acceleration. One can feel this from the tremendous trampoline effect – also during slower strokes. The PLASMA 430 is designed for the top athlete as well as for the mid- to lower-class player to whom HI-TEC rubbers are a great new alternative.

PLAY PLASMA – Do the change NOW!
Already months before start of the speed-gluing ban, andro is launching the PLASMA - its first rubber for "the time after". The PLASMA has the speed-gluing effect already built-inside – the rubber needs no more speed glue. PLASMA is manufactured in the new TENSOR BIOS technology and has two outstanding features:
INTEGRATED SPEED GLUE POWER
The performance increasing effect of the fresh gluing – a massive boost of spin and speed – is integrated in the PLASMA. Tests have proven that 70% of the potential performance addition of maximum speed gluing (7-times pre-gluing) is permanently built in the PLASMA from the production process. andro promotion athletes and first league players have scrutinized the rubber and confirmed that with the PLASMA they can resign speed-gluing without having to adapt their technique.
ITTF-COMPLIANT SPIN+SPEED POWER
The BIOS logo stands for the health compatibility of the rubbers. PLASMA rubbers were analysed for their concentration of organic solvents. They are significantly below the threshold fixed by the ITTF for the future. Also the other substances of content are without any health risk for the user.

Speed: 105
Spin: 103
Control:80
Sponge Hardness: Medium

---
Customers who purchased Andro Plasma 430 also purchased:
Ordering Information
Rubber FAQ and Guide to Choosing Rubber - what you need to know when buying rubber.
Compare rubber ratings - compare ratings to other sheets.
Free shipping over $50 to continental US locations.
Best Price Guarantee We guarantee to have the lowest prices (shipping included) when compared to US table tennis stores. Please tell us if you find a lower USA price.
Reviews of Andro Plasma 430 (5)
Submit a short review about Andro Plasma 430.
| | |
| --- | --- |
| | External Review on February 24, 2013 |
good speed, you can make fast blocks, lacks in spin, too many balls off the end of the table. Will move to try stiga calibra lt spin or Donic Acuda s1/2
---
| | |
| --- | --- |
| | External Review on July 12, 2010 |
A easily played rubber with good control.
---
| | |
| --- | --- |
| | External Review on March 19, 2009 |
This rubber is a good choice for offensive players who want to win the point by variations of topspins and hard smashs. On the other hand it's not that good at short game and serving but with this rubber the ball gains a lot of spin each time you hit it. But it's worn out after 2-3 month, which makes playing this rubber quite expensive, if you buy this one 4, 5 or 6 times a year
---
| | |
| --- | --- |
| | External Review on April 11, 2008 |
Really great BH rubber. It plays quite similar to the 470, but with a higher throw and lower speed, making it much more controllable once the rally starts.

Looping is a breeze with this, but surprisingly, hitting/punch blocking is also very stable.
---
| | |
| --- | --- |
| | External Review on March 24, 2008 |
Excellent rubber for aggressive blocks and quick flips, especially on the BH. Powerful enough to loop at mid distance.